Girls' Varsity Basketball Team Ranked #1 in NYS Class C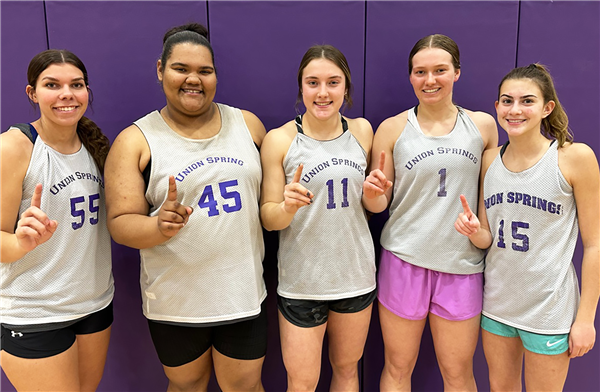 In what is believed to be a first in school history, Union Springs High School has a team ranked number one in New York State Class C athletics.
The varsity girls' basketball team recently achieved this ranking after starting the season with a 10-0 record, including a 5-0 mark in league play and a win in the Cayuga County Holiday Basketball Tournament.
"I believe this is the first time in school history that one of our teams has been ranked number one in New York State, so it's quite an achievement," Athletic Director Todd Salls said. "It is a testament to the hard work that both the girls and their coaches have put in not only this year, but for the past ten years."

With that said, Salls noted that the team's goals for this season are not complete.
"There's still lots of work to do as the post season awaits," he said.
According to Max Preps, the team is ranked 26th overall in the state, quite an achievement for a smaller, rural school in Central New York. Of the 25 teams ranked higher, only one can match the undefeated record of Union Springs.
"These kids have worked extremely hard for a long, long time. I think they're deserving of it. But it does put a bigger 'X' on your back," said Coach Andy Kalet. "When the news came out, I thought our girls handled it very well. I thought we played one of our better games that night."
Kalet said he's extremely proud of the team and is happy for them to achieve the number one ranking in Class C. However, with sectionals just around the corner, Kalet noted that the team's goals are just getting started.
"We know we need to bring everything we have heading into sectionals. We know it's going to be extremely difficult," he said. "It's one and done at that point."
In a joint statement released by the team's five senior players (Danielle Waldron, Kailey Kalet, Payton Gilbert, Ella Johnson, and Xavia Evener), they noted how years of hard work has attributed to the success of the program.
"It means a lot to us (to be ranked number one), and I think our hard work over the last few years has got us to where we are today. If we didn't stay together as a team, we wouldn't have this type of success," the seniors stated.
The seniors said they know the target on their back is bigger than ever, but also noted that they enjoy that type of pressure.
"Everyone is out to get Union Springs now," they said. "We know every night we need to come prepared no matter who we're playing."